McLane Middleton Attorney Mark Rouvalis took part in the 24th Annual WZID Christmas is for Kids Radiothon on December 9, 2022 to benefit Waypoint. The Radiothon, sponsored in part by McLane Middleton, has raised $132,000 (and counting).  This event fulfills the holiday wishes of kids in need, and helps New Hampshire families through the tough times throughout the year. Mark was live on air discussing the importance of this event and the community it serves.
To listen to the full interview click here.
Mark is a director at McLane Middleton and vice chair of the litigation department. He is a trial lawyer who successfully resolves environmental and commercial disputes for his clients through trial, alternative dispute resolution, or negotiation. His extensive experience in environmental litigation includes protecting clients from governmental claims both in court and in the regulatory context, as well as prosecuting or defending contamination claims between his clients and other private parties. Through his trial practice, Mark also assists his clients to obtain significant insurance recoveries for various pollution and business claims. In his commercial litigation practice, Mark enables clients to resolve their disputes in a timely and cost-effective manner. The range of cases he handles encompasses the variety of problems companies and individuals face in business. In addition to his trial practice, Mark regularly advises businesses and individuals concerning state and federal environmental laws and regulations. The advice frequently covers hazardous waste regulation and enforcement, Superfund and oil spill liability, Brownsfield redevelopment, shoreland, wetland and other environmental permitting, and liabilities arising in real estate transactions. In addition, Mark is also the Chair of Waypoint Board of Trustees. Mark can be reached at the firm's Manchester office at (603) 628-1329 or mark.rouvalis@mclane.com.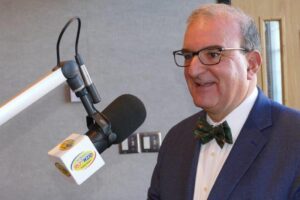 Mark Rouvalis live on air at WZID on December 9, 2022.