Our Mission
At McLane Middleton, our collaborative team of professionals provide the most comprehensive legal services. Our attorneys maintain integrity and expertise to earn long-term, trusting relationships with our clients and the communities in which we live and work.
With over 105 attorneys and 25 paralegals, our progressive approach and team enables us to work with all types of clients, and to deliver customized, cost-effective solutions. Our organization, hiring practices, training, and use of technology give our professional team the ability to provide deep legal expertise in a wide breadth of areas.
McLane Middleton is the largest, most diverse law firm in New Hampshire, and has been steadily growing since 1919. In 2008, our New Hampshire law firm expanded into Massachusetts to accommodate clients' growing legal needs throughout New England.
McLane Middleton holds the respected honor of being listed as one of America's leading law firms in Chambers USA: America's Leading Business Lawyers.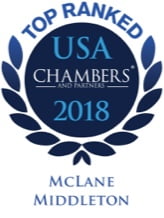 Award Winning Attorneys
Client Service Lifetime Achievement Award Winners:
2018 – Bruce W. Felmly
John A. Graf Client Service Award Winners:
2022 – Joanne Bressi
2021 – Laura M. Kahl
2020 – Patrick C. Closson and Kimberly A. Kramer
2019 – Janis E. Byrd
2018 – Michelle D. Abruzzese
2017 – Anikó Bouley
2016 – Dawn Gagnon
2015 – Carol Flaherty
2014 – Debra Ruo
2013 – John Weaver
2012 – Shannon Laurendeau
2011 – Joel Emlen
2010 – Donna Schesser
2009 – Lori Sullivan
2008 – Linda S. Johnson
2007 – Nancy Dorr
2006 – Kathryn Mulhearn
2005 – Connie Bryant and Denise Kassapis
2004 – Ron Langely

McLane Middleton is proud member of TerraLex, a worldwide network of quality law firms that meet high professional standards.