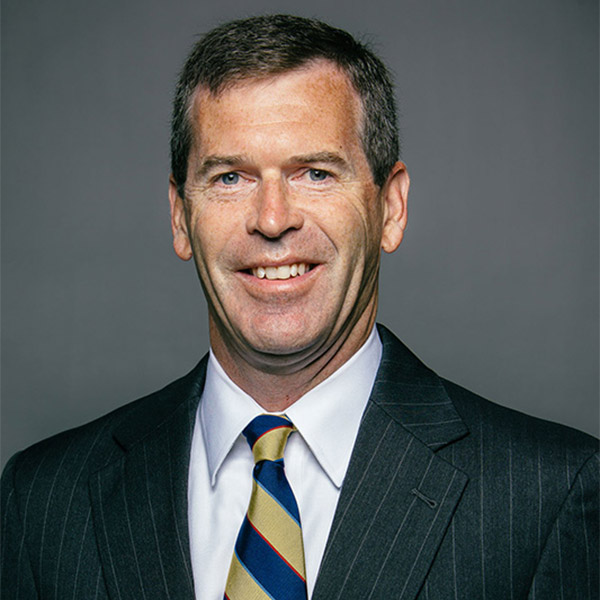 Michael A. Delaney
Director and Chair, Litigation Department
900 Elm Street
10th Floor
Manchester, NH 03101
Having served as Attorney General of New Hampshire (2009 – 2013), legal counsel to Governor John H. Lynch (2006-2009), Deputy Attorney General (2004-2006), and Chief of the State's Homicide Prosecution Unit (1999-2004), Michael is highly regarded in and out of government for his strategic judgment and skills as a lawyer.
Michael represents organizations and individuals with government and internal investigations and complex civil and criminal litigation. He also advises schools, colleges and universities on Title IX issues, responses to faculty and student misconduct and compliance issues.  Michael conducts and oversees internal investigations and provides counsel to organizations on crisis management.
As chief law enforcement officer and chief legal counselor of the State, he handled a broad range of complex litigation and regulatory matters, including multi-state cases, fraud investigations, corporate compliance issues, financial services regulation, health and hospitals litigation, environmental litigation and energy matters, contract disputes, labor and employment, not-for-profit organizations, criminal law, antitrust, and consumer issues.
He is an experienced trial attorney and has litigated cases in state and federal courts for over 25 years.
Michael is a past member of the firm's Management Committee, the Chair of the Hiring Committee and the Chair of the firm's Litigation Department.  He is a 1994 graduate of the Georgetown University Law Center and he graduated cum laude from the College of the Holy Cross in 1991.
Government Litigation and White Collar Defense
Business/Complex Commercial Litigation
Corporate Investigations and Compliance
Education Law
New Hampshire
Massachusetts
United States District Court of the District of New Hampshire
United States District Court of the District of Massachusetts
United States Court of Appeals for the First Circuit
Supreme Court of the United States
Fellow, New Hampshire Bar Foundation
National Association of College and University Attorneys (NACUA) – Member
Boys & Girls Club of Manchester, 2013-present – Member, Board of Trustees
Bean Foundation, 2017-present – Member, Board of Trustees
New Hampshire Campaign for Legal Services, 2013-present – Member, Advisory Council
New Hampshire Legal Assistance, 2013-present – Member, Board of Trustees, Board of Directors
Legal Advice and Referral Center, 2013-present – Member, Board of Trustees, Board of Directors
CHAMPS, Central High Association of Music Parents & Supporters, 2013-present – Member
Best Lawyers in America:  (2022) Lawyer of the Year – Appellate Practice Commercial Litigation Corporate Compliance Law Education Law
2013 Recipient of the Honorable William A. Paine Award, Governor's Commission on Domestic Violence and Sexual Assault
2012 Recipient of the Hands of Hope Leadership Award, Granite State Children's Alliance
Manchester Union Leader "Forty Under 40" Community Leader (2005)
2004 New Hampshire Magazine "Ideal Attorneys" Rising Star
Michael's work includes representation of:
Ivy League college in government investigation regarding faculty misconduct.
Public university in internal investigation of Title IX compliance at various college locations across the state.
Top-ranked boarding schools in defense of various civil lawsuits, including cases involving sexual misconduct, torts and financial disputes.
National consumer lender in civil enforcement action by state banking department and federal agency for issuance of unauthorized loans.
National consumer finance company in government investigation for alleged fraudulent and deceptive advertising of consumer loans.
Coalition of top-rated insurance companies in legal dispute over changes to long term care insurance rules and regulations.
Regional managed health care administrator in government investigation for alleged failure to report misconduct under state law and federal Medicaid rules and regulations
Health care provider in enforcement action by state agency and health care boards for consumer protection violations and billing practices.
Financial advisory firm in contract dispute with co-founder and shareholder.
Regional, boutique law firm in civil action alleging professional negligence, fraud and consumer protection violations in representation of former client.
Non-Profit Foundation overseeing nationally top-rated summer camps in internal investigations of historic sexual abuse by former camp counselors.
National provider of child care and early learning education centers in criminal and regulatory investigations of child abuse and neglect by child care provider.
National coalition of automobile dealers in multi-district litigation against American Honda in the 1990's, which resulted in the then-largest multi-million dollar civil RICO settlement in United States history.
As Attorney General, oversaw federal environmental litigation that resulted in a verdict of $816 million, the largest civil verdict returned in state history.
As homicide prosecutor and unit chief, handled and supervised dozens of major criminal trials in all New Hampshire state courts.