Steven V. Camerino, Linda S. Johnson, Joel W. Maiola, and Jennifer L. Parent were honored by NH Business Review as influential leaders in the second bi-annual New Hampshire 200 list.
The New Hampshire 200 is the product of a year-long research initiative by the editors of NH Business Review, resulting in an insightful and engaging look at the state's most influential business leaders across major industries. NH Business Review celebrated the New Hampshire 200 during a reception on December 9, 2021 at the DoubleTree by Hilton Manchester Downtown, and will also be publishing a New Hampshire 200 book detailing the accomplishments of the recipients.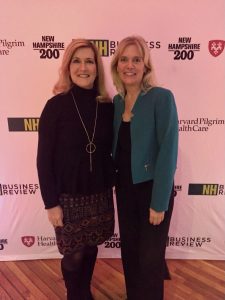 Steve Camerino is Chief Executive Officer of McLane Middleton.  He is responsible for overseeing the operational, financial, marketing and human resource functions of the firm, and works closely with the firm's management team on day-to-day operations and strategic planning.    Steve can be reached at (603) 628-1414 or steven.camerino@mclane.com.
Linda Johnson is Co-Chair of McLane Middleton's Education Law Group and focuses her practice on understanding and serving the needs of K-12 independent  schools. She serves as outside legal counsel and a consultant to many of the country's top independent day and boarding schools. She advises her clients on all aspects of school operations including employment law, student discipline, contracts, fiduciary and tort law, leadership development, investigations, compliance audits, risk management, crisis response, and student safety.  Linda consults with schools on both prevention and response to all types of educator misconduct and student on student sexual assaults.  She can be reached at (603) 628-1267 or linda.johnson@mclane.com.
Joel Maiola is a Senior Advisor with McLane Middleton Government and Public Strategies.   From 1986 through 2008, Joel served as Chief of Staff to the Honorable Judd Gregg as he represented New Hampshire as a member of the U.S. House of Representatives, Governor and in the U.S. Senate. Joel brings two decades of experience and an intimate understanding of how to interact with local, state and federal government elected and non-elected officials.  Joel can be reached at (603) 625-1485 or joel.maiola@mclanegps.com.
Jennifer Parent is a director and chair of the firm's Litigation Department.  She has over 25 years of experience litigating and resolving disputes for companies and business owners in a wide range of complex commercial cases and employment matters.  She has litigated in state and federal courts in New Hampshire and Massachusetts.  Jennifer has represented companies in business litigation involving contracts, tortious interference, unfair competition, shareholder, real estate, tax abatement, eminent domain, leases, misrepresentation, and other business disputes.  She has represented employers in the areas of employment discrimination, executive termination, retaliation, harassment, wrongful termination, contract, defamation, wages, trade secret, non-competition, and non-solicitation disputes.  Jennifer has also represented companies in employment, tax abatement, and eminent domain matters at the administrative or agency level and conducted workplace trainings and discrimination/harassment investigations.  She is also a trained mediator with extensive experience in alternative dispute resolution.  Jennifer can be reached at (603) 628-1360 or jennifer.parent@mclane.com.
The New Hampshire 200, first launched two years ago, recognizes business owners and leaders from all corners of the state across major industries, including architecture/engineering/construction, business and professional services, education, energy, finance, healthcare, hospitality, law, manufacturing, media/marketing, nonprofit, real estate, retail and technology. The New Hampshire 200 book includes personal, career and industry insight for readers, such as business lessons learned, challenges, predictions and more.
"We are pleased to announce this year's New Hampshire 200 list, which spotlights a truly remarkable group of individuals leading the Granite State in their respective industries," said Jeff Feingold, editor of NH Business Review. "This list has been months in the making and has involved extensive research, interviews, and communication with our contacts in regional business circles. We look forward to providing the people of New Hampshire this inspiring look at the individuals who are making an immeasurable positive impact on the state."