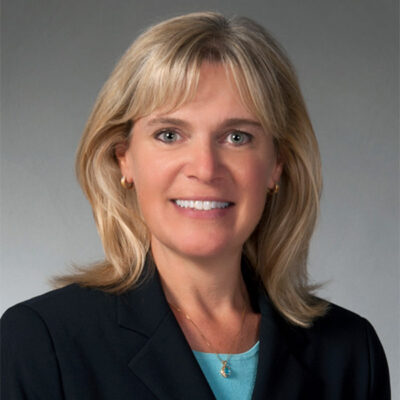 Jennifer L. Parent
Director, Litigation Department
900 Elm Street
10th Floor
Manchester, NH 03101
Jennifer is a director of the firm's Litigation Department and chairs its Business Litigation Practice Group.  She has over 27 years of experience litigating and resolving disputes for companies and business owners in a wide range of complex commercial cases and employment matters.  She is currently a member of the firm's Management Committee and former chair of the Litigation Department as well as the Employment Law Practice Group. She has litigated in state and federal courts in New Hampshire and Massachusetts.  Jennifer has represented companies in business litigation involving contracts, tortious interference, unfair competition, shareholder, real estate, tax abatement, eminent domain, leases, misrepresentation, and other business disputes.  She has represented employers in the areas of employment discrimination, executive termination, retaliation, harassment, wrongful termination, contract, defamation, wages, trade secret, non-competition, and non-solicitation disputes.  Jennifer has also represented companies in employment, tax abatement, and eminent domain matters at the administrative or agency level and conducted workplace trainings and discrimination/harassment investigations.  She is also a trained mediator with extensive experience in alternative dispute resolution.
Jennifer is a Fellow of the American College of Trial Lawyers.
Jennifer received her J.D., summa cum laude, from Suffolk University Law School (1995) and her B.A., cum laude, from Boston College (1992). She also completed the St. Paul's School Advanced Studies Program (1987).
Arbitration and Mediation
Business/Complex Commercial Litigation
Employment & Labor Law
General Civil Litigation
Land Use and Development Law
Tax Abatement
City of Rochester v. AECOM Technology Corporation, et al, New Hampshire Supreme Court 2016-2012 (December 13, 2016).  After oral argument, successfully affirmed trial court's grant of AECOM's motion to dismiss from litigation based on statute of limitations.  On issue of first impression, Supreme Court held that doctrine of Nullum Tempus Occurrit Regi ("time does not run against the king") does not apply to municipalities in contract actions.
H. Boone Porter, III and Margaret Porter v. Town of Sandwich, et al, Carroll County Superior Court (2015).  After two day trial, successfully obtained judgment for Porters.  Trial court found several violations of the NH Right to Know Law (RSA 91-A et seg), vacated two separate board decisions and mooted one, awarded attorneys' fees and costs, and ordered remedial training by town boards and individuals.
Leon Stillwagon v. Hitchiner Manufacturing Company, Inc., Hillsborough County Superior Court (2013).  Successfully defended company against claim for potentially multi-million dollars in payments to former executive.  Upheld on appeal (No. 2013 – 0716)
Southern Spectrum v. Town of Wolfeboro, Carroll County Superior Court (2012). Successfully obtained significant abatement for high end waterfront property after trial.
Green Crow Corporation v. Town of New Ipswich, Hillsborough County Superior Court Southern District (2011). Successfully obtained judgement for commercial landowner for upgrade of Class VI road to Class V road after five day trial.
Successfully obtained summary judgment in favor of employers in federal court on claims of race discrimination under Title VII, discrimination claims under the ADA, retaliation under Title VII and New Hampshire's anti-discrimination statute, and wrongful termination.
Hitchiner Manufacturing, Inc. v. Mark White, Hillsborough County Superior Court Southern District (2010).  Successfully obtained jury verdict for employer in trial to enforce relocation agreement and promissory note executed by former employee, including award of attorney fees and costs for employer.
Richard Dennis v. Osram Sylvania, Inc., 549 F .3d 851 (1st cir 2008).  Successfully upheld summary judgment in favor of employer at First Circuit Court of Appeals on dismissal of retaliation claim.
Shawn Rye v. Allegro Microsystems, Inc., Hillsborough County Superior Court, Northern District (2006).  After an eleven day jury trial, successfully obtained defendant's verdict on claims of sexual orientation and gender discrimination under the New Hampshire law against discrimination and claims of retaliation.
State v. Skip Fern Trust V, Board of Tax and Land Appeals (2008).  Successfully obtained fair compensation award of $2.4 million for landowner in taking of private property by state by eminent domain.
Successfully reversed on appeal planning board's denial of permanently vested rights under development project by successor in interest.
Steir v. Girl Scouts of the U.S.A., 150 N.H. 212 (2003).  Finding no tolling of statute of limitations under New Hampshire's anti-discrimination statute for minors.
Steir v. Girl Scouts of the U.S.A., 383 F .3d 7 (1st Cir. 2004).  Upholding summary judgment in favor of defendant.
Minuteman, LLC & a. v. Microsoft Corporation, 147 N.H. 634 (2002).  Finding indirect purchaser rule applies to New Hampshire anti-trust statute.
New Hampshire
Massachusetts
U.S. District Court for the District of New Hampshire
U.S. District Court for the District of Massachusetts
First Circuit Court of Appeals
The Palace Theatres, Chair Board of Trustees (2020 – 2022); Board member (2012 – present); Chair, Investment Committee (2022-2023); Co-Chair, Community Advisory Board (2018 – 2019)
American Bar Association, State Delegate (NH) (2020 – present)
American Bar Association, Rules & Calendar Committee (2022 – present)
American Bar Association Standing Committee of Bar Activities & Services – now known as Center for Bar Leadership (2022 – present)
American Bar Association Fund for Justice and Education, Council (2022 – present)
Fellow of American Bar Foundation, Secretary (2023 – present)
National Center for State Courts – Lawyers Committee (2018 – present)
The National Judicial College Joint Committee of Law Firm Partners and Corporate Counsel (2019 – present)
New Hampshire Business Committee for the Arts, Secretary (2017-present); Board (2015 – present)
American Bar Association, Chair of Drafting Committee (2019-2020); Vice-Chair (2020-2022)
American Bar Association Special Committee on Hispanic Legal Rights & Responsibilities (2021-2022)
New Hampshire Bar Association, Committee on Cooperation with the Courts, Chair (2013 – 2016); Member (2012 – present)
Boston Bar Association, Business & Commercial Litigation Steering Committee 2022-present
National Conference of Bar Presidents, President (2018-2019); Executive Council and Officer (2012 – 2020)
President of the New Hampshire Bar Association (2011-2012)
President of the New Hampshire Women's Bar Association (2000-2002)
New England Bar Association, President (2018-2019); Board (2011 – 2020)
American Bar Association, Association Delegate to ABA House of Delegates (2015 – 2020)
American Bar Association, 2018 Presidential Appointments Committee
Founding Member of Loan Assistance Program for Suffolk University Law School New Hampshire Alumni in 2003
New Hampshire Women's Bar Association, Founding Member/Incorporator in 1998
American Bar Association (1996 – present)
New Hampshire Bar Association, Leadership Academy, Steering Committee  (2010 – 2016)
New Hampshire Bar Foundation, Board Member (2009 – present) and Sustaining Life Fellow
American Bar Foundation, Chair for New Hampshire (2012 – 2018) and Patron Life Fellow (present)
Suffolk University Law School, New Hampshire Alumni Association president (2003 – present)
National Conference of Bar Presidents, Sustaining Life Fellow
Opera NH, Board of Directors (2006-2012)
New Hampshire Bar Association – Bench Bar Conference, Chair (2021 – 2022)
New Hampshire Bar Association – Bench/Bar Conference, Co-Chair (2014-2015)
International Association of Defense Council, Member
Defense Resource Institute, Member
Association Defense Trial Attorneys
New Hampshire Association for Justice, Member
Massachusetts Women's Bar Association – Member and Women in the Courtroom Committee
American Association for Justice – NH – Member
Manchester Bar Association – Member
Best Lawyers in America (Commercial Litigation; Employment Law – Management, Labor Law – Management, Litigation – Land Use and Zoning, Personal Injury Litigation – Plaintiffs; Litigation – Labor and Employment), 2013 – present
Massachusetts Lawyers Weekly 2022 Go To Business Litigator
Massachusetts Lawyers Weekly 2020 Top Women of Law
Suffolk University Law School, 2019 Outstanding Alumni Service Award
Outstanding Woman in Business by New Hampshire Business Review (2015). Click here for full article in New Hampshire Business Review.
Named Top 50 Woman Super Lawyers in New England (2013, 2015, 2016)
NHBA' s Judge Philip S. Hollman Gender Equality Award (2010)
Named Trailblazer in the Law by the New Hampshire Women's Bar Association (2008)
Named as one of the New Hampshire Union Leader's "Forty Under 40" Business Leaders (2007)
Robert E. Kirby Award, presented by the New Hampshire Bar Foundation (2003)
Suffolk University Law School, Daniel J. Fern Award for highest cumulative average in graduating class, summa cum laude (1995)
Suffolk University Law School, Law Review (1993-1995)