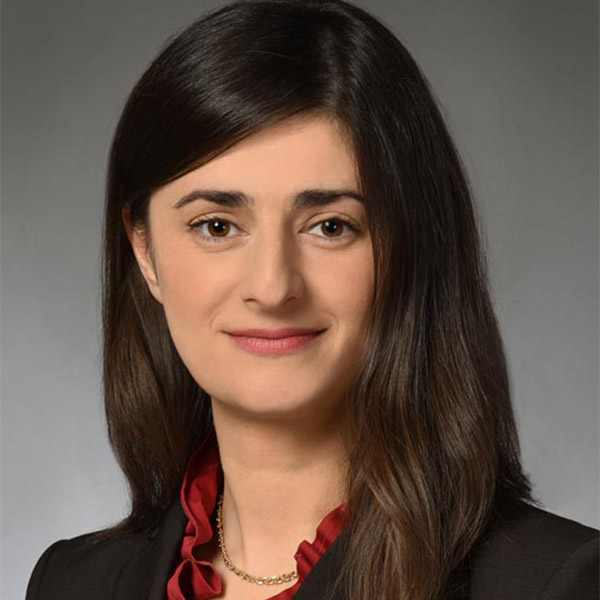 Shiva Karimi
Director, Corporate Department, Immigration Practice Group and Managing Director Boston Office
45 School Street
2nd Floor
Boston, MA 02108
Shiva's practice focuses on business immigration law. She advises employers and employees in developing creative and effective strategies for temporary and permanent immigration solutions.  She also counsels employers in immigration compliance matters and assists employers in responding to audits and investigations. She represents clients across a range of industries including high technology, manufacturing, government, independent schools, non-profits, service businesses and families.
Previous to McLane Middleton, Shiva established and directed Karimi & Associates, PC for 14 years (2000-2014). She served as chair of the Boston Bar Association's Immigration Law Committee (2002-2007), and was a member of the Massachusetts Bar Association's Immigration Law Steering Committee (2006-2007). She is also a long-time member of the American Immigration Lawyers Association.
Shiva earned her J.D. from Suffolk University Law School (1998), and is currently admitted to practice in the Commonwealth of Massachusetts, the Federal District Court for the District of Massachusetts, and the 1st Circuit Court of Appeals. She received her B.A., cum laude, from Northeastern University.
Shiva is a frequent speaker on both immigration and real estate related matters for judges, attorneys and non-attorneys, and has given presentations at the Boston Municipal Court Department Judge's Conference, the American Immigration Lawyers Association, Massachusetts Continuing Legal Education, the Boston Bar Association, the Massachusetts Bar Association, Boston College Law School, and the Iranian Association of Boston, among others.
Commonwealth of Massachusetts
Federal District Court for the District of Massachusetts
United States Court of Appeals, First Circuit
Co-Chair, Immigration Law Section, Boston Bar Association
Suffolk Law Alumni Board
ProVisors, Boston II Executive Committee, M&A Group, Transitioning Business Advisor Group
USA 500 Clubs, Woburn Host, International Roundtable Member
Greater Boston Chamber of Commerce Women's Leadership Program
American Immigration Lawyers Association
Boston Magazine's Top Lawyers of 2021 (Immigration)
Mass Lawyers Weekly – Top Women of Law 2019
Immigration Practice Manual, MCLE New England, co-author – chapter 30: Current I-9 Employment Verification Procedures, Best Practices for IRCA Compliance, and Preparing for a Government Investigation
Immigration (Business NH Magazine's NH Futurecast: 2020), 1/23/20
Recordkeeping and the Form I-9 (2018 Human Resources Conference), 6/15/18
Immigration Law in the New Administration (McLane Middleton's NH Employment Law Update), 5/16/17
Investor's Visa E-2 and EB-5 (New England Broker's Association), 3/1/17
New Administration Expectations (International Business Series), 1/31/17
Updates to the H-2B Temporary Worker Program (McLane Middleton's MA Employment Law Update), 11/20/16
Crossing the U.S. Border Inbound and Outbound (International Business Series), 11/4/16
Immigration Law 2016 CLE (New Hampshire Bar Association), 5/19/16
Investor's Visa E-2 and EB-5 (Baystate Business Brokers), 5/17/16
Investor's Visa E-2 and EB-5 (Murphy Business), 3/2/16
Businesses with Foreign Branches (International Business Series), 1/21/16
Immigration Issues for Businesses (McLane Middleton), 2/17/15
Landlord/Tenant Law (Boston Municipal Court Department Judge's Conference), 2011
Law Practice Management (Boston College Law School), 2010
Immigration Basics (Massachsuetts Bar Association), 2006
Federal Court Litigation (AILA New England Immigration Law Symposium), 2006
Adult Continuing Education (ALRI/Boston Sabes), 2006
Mandamus Actions; Immigration and Technology (Boston Bar Association), 2006 and 2004